Gun Unit Heavy Elimination Device
So with some sadness I leave Gunhed and post my final score of 3,135,780 just behind Amidststorm's score of 3,530,900. Those scores seem very close but the difference of 395,120 points represents possibly a level's worth of scoring or a boss battle point tally. This competition was a nail biter all the way to the end with myself putting in an 11th hour run, well a 10:00 run in order to squeeze one more attempt in before the 12:00 deadline on the 15/03. I was going well and had amassed a ton of lives and no deaths up till level 7 but fatefully I lost concentration and died losing all my power ups. I limped onto level 8 but my severely depleted ship didn't stand a chance. I know Amidststorm hates level 9 but the level I dislike is 8 because of all those evil bubbles, so frustrating. Due to busyness I've only just put some runs in on this game towards the end of the challenge and I'm kicking myself that I didn't start this sooner – curse you real world getting in my way! Congrats to AMS he thoroughly deserved his victory, this is one challenge I'd like to revisit at some point because I'm sure, as I fell my friend will agree that 1cc is so tantalisingly close!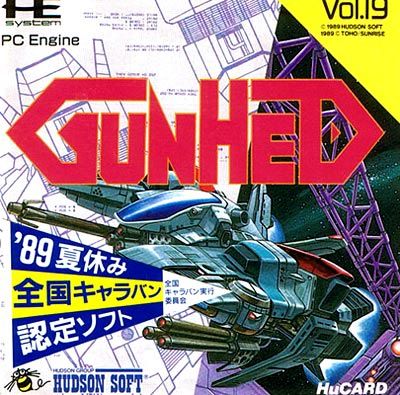 Compile/Hudson RIP
I've enjoyed this challenge so much because it given me the chance to spend some time with an iconic title from my gaming memory GUNHED! Nothing screams or epitomises the PC engine more than this game – the little console firing out a stream of technically impressive shooters and generally punching above it's weight. Another reason why I've been enthralled by this challenge is because it gave me the opportunity to dust of my PAL(ised) TurboGrafix which has had hardly any use since I bought it brand new 3 years ago. I'm starting to change my opinion of this machine - it's still ugly, the plastic it's made from is nasty, and the artwork on the games is generally not as nice as their gorgeous Japanese counterparts, but the console runs those us release games perfectly in the UK and there's a certain amount of charm in the way the console is over-engineered.
Roll on challenge #3